All those loving and sincere pet keepers of Oman, Saudi Arabia, Bahrain, and Kuwait need Mister Pet houses. Mister Pet produce the best dog house with ac which is a better shelter for your pets during the bad summer weather. Those who want to ensure their pets are well protected in outdoors should opt Mister Pet for their pet house requirements. Why? Here are the reasons.
Shady roof for your beloved
It might sound like an unnecessary expense, but a pet house is a perfect space for pets to spend at least several hours a day outdoors. However, the outdoor climate in the Middle East countries is not favorable for animals. It is hot and can cause deadly diseases.
Mister Pet's pet houses are designed in a way that, it gives a cozy and protected environment for your pets. Our well built cool roofs will safeguard your pets against harmful sun rays.
We have outside UAE delivery.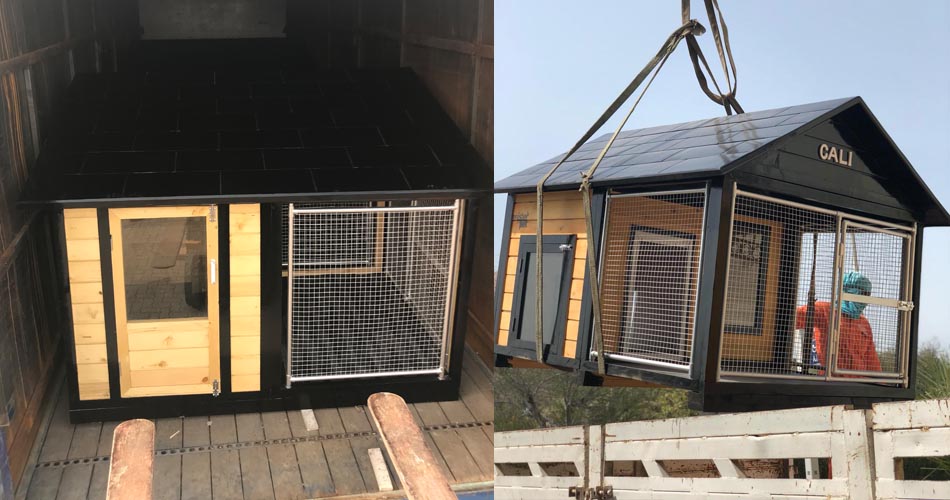 We promptly pack and deliver our pet houses outside the UAE. We aim to provide high-quality and harsh weather withstanding pet houses all over the GCC countries.
Inbuilt Ac
Hope I don't need to explain the torrid climate of middle east countries. No matter how much shade or ventilation you give to your pets, the hot climate with humidity and the sandy storm will keep them uncomfortable.
Our pet houses come with in-built air conditioning which keeps the house at the right temperature all the time.
High-quality materials

We are experts in taking care of every detail and design of pet houses. We employ high-quality, safe weather treated wood. Our wood is imported from Canada which is guaranteed to last longer.
We employ well-sealed wood without plastic and very dark colors, as it is not suitable for extremely hot climates.
Best service
Upon your inquiry, our customer service representative will visit your site. We take into consideration all the requirements of the pet, owner and the local weather. Our products will be delivered promptly to your residence.
Moreover, we have follow-up services for the pet houses we provide.
A pet house is a good investment. It will make sure that the pets are safe and protected from the outdoors. It can give you peace of mind when you are away at work or on errands. If you are in Oman, Saudi Arabia, Bahrain, and Kuwait region and thinking about getting a pet house, you can count on us. We will take care of everything from start to finish.
Mister Pet build the best dog houses in the Middle East. Our dog houses are the end products of thorough research work. Therefore, we have plenty of valuable customers in and outside the UAE.